Saber Power is committed to workplace safety.
We are relentless in our commitment to safety, with a goal of an accident-free workplace.
Saber Power is a safety-driven organization. We define safety management measures to implement specific and effective job-site safety programs and delineate each individual's responsibilities.
Our Director of Safety leads the overall safety of each project and reports directly to the President. He is also accountable for the safety excellence expected by our clients and reports to the project Executive Sponsor.
"
The safety throughout our project without any major safety incidents was incredible. The number of man hours worked without a major incident is a testament to Saber's dedication to safety.– B.G, Large public utility company
All Saber Power employees:
are expected to work safely and are accountable for working safely
will maintain a safe attitude and stay alert at all times
are authorized to and will stop other employees from performing unsafe acts
will immediately stop and resolve any unsafe behaviors or situations that they encounter
will be actively involved in and contribute to Saber Power's safety programs
will report all injuries, illnesses, safety events and exposures as soon as they are known; this includes personal injuries that may affect the ability to perform job duties safely
are encouraged to apply the same workplace safety and health principles at home that are required at work
will report to work capable of maintaining their focus and attention to work
will understand the hazards and risks associated with their work and workplace and will follow all applicable procedures and rules that apply to the work
will practice good housekeeping at all times
will be prepared to respond to environmental, health and safety situations and emergencies
Saber Power safety culture
Stop Work Authority: All employees have both the right and the responsibility to stop all work in progress if observing an unsafe condition.
Dedicated Director of Safety & Quality reports directly to President
Routine audits by safety professionals
Culture of Root Cause Investigations
Best in Class EMR Rating: 0.54 / TRIR 0.66
Company integrated Behavior Based Safety Program
Safety record recognition
We have been honored to receive numerous awards recognizing our safety record.
Safety training
Our technicians are required to complete more than 40 safety courses and attend recurrent training annually. Courses include construction safety, electrical safety and job safety analysis, among others. In addition, Saber offers many electrical safety and technical training courses and substation and switchgear maintenance training courses for industry professionals and technicians.
We work safely, or not at all.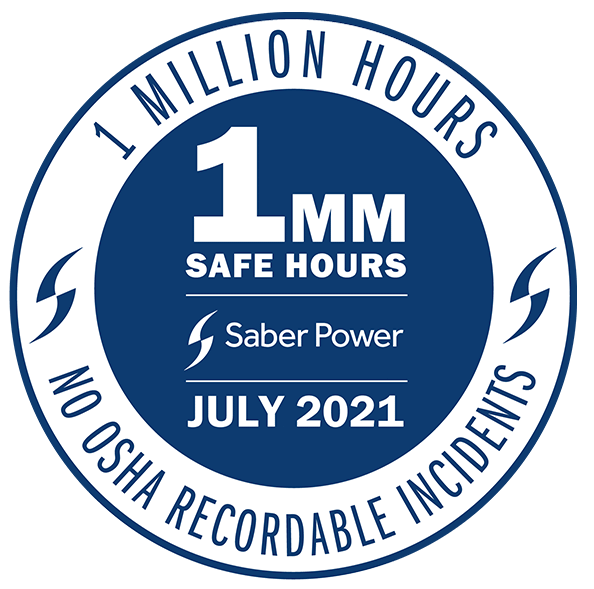 Saber knows power. Contact us for more information.