Electrical emergency response 24/7 for Houston, the Gulf Coast region and globally
Electrical emergency first responders for municipalities, hospitals, data centers, large industrials, plants, refineries, utility companies
Saber Power Field Services is equipped to help our clients get their large electrical systems operational. Our team conducts emergency response, electrical triage, damage assessment and inspection. We have the resources and capabilities to rebuild and replace damaged electrical systems to get our clients running quickly —ensuring a safe, reliable return to operation.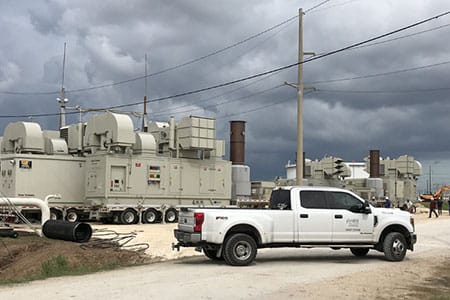 Saber Power Emergency Response
Our electrical technicians serve as first responders in major catastrophe areas such as hurricanes, storms, explosions, floods, tsunamis, and other emergencies, and are experienced repairing water-damaged electrical systems.
Saber Power's emergency electrical team can perform electrical triage and establish temporary power via generators, typically within the first 48 hours.
24-Hour Emergency Electrical Field Service
Electrical emergency first response
Electrical triage
Electrical system damage assessment
Inspection and testing of high voltage equipment
Equipment repair / recondition
Spare parts support
Replacement equipment
Installation commissioning and startup
High, medium and low voltage circuit breaker repair and replacement
Power and distribution transformers repair and changeout
Oil circuit breaker repair and changeout to SF6
Instrumentation and meters
Motors and motor winding resting and repair
Battery inspection, testing and maintenance
Ground fault monitors
"Board-up" services
Building dehydration
Generator solutions
Temporary HVAC
Refueling
Capabilities
Substations, Switchgear, MCC
Breakers – 600V, 5kV, 15kV, 38kV
Vacuum, Oil, SF6 Breakers – 15-230kV
Contractors/Starters
Transformers
Large Motors
Direct Replacement Breakers
Generators

Units ranging from 4kW to 2MW
Daily, weekly, monthly and discounted standby rates available
Delivery, refueling, and maintenance services available
Strategic Supplier Partnerships
Contractors
Engineers
Electrical suppliers
HVAC
Flooded Equipment That Must Be Replaced
Molded Case Circuit Breakers
Low Voltage Fuses
Busway (Mylar Wrapped)
Solid-State Components
Overload Relays
Electronic Trip Units of LV Power Breakers
All Dry-Type Transformers
All Dry-Type Control Circuit Transformers
Liquid Filled Transformers
Cast-Resin Transformers
Flooded Equipment That May Be Reconditioned
Enclosed Switches
Busway (Power Coated)
Panel Boards
Switchboards
Adjustable Speed Drives
Manual and Magnetic Controllers
Motor Control Centers
High Voltage Circuit Breakers (AC)
Low Voltage Circuit Breakers
Protective Relays, Meters, Current Transformers Low and Medium Voltage Switchgear
We've assisted in emergency response for all types of companies and municipalities:
Hospitals
Data centers
Large industrials
Plants
Refineries
Utility companies
Municipalities
Electrical Emergency Response Examples
Hurricane Recovery Experience:
---
Hurricane Laura 2020 – Nederland, TX
Provided and installed 40 MW of gas turbines for storage tank/pipeline facility
Staged and dressed eight 5 MW of gas turbine units near substation
Installed cable tray raceway between units and 15 kV substation building
Installed 15 kV cable terminations from Turbines to 15 kV switchgear
Interconnections for Turbines
Provided relay settings for Turbines and 15 kV gear
Developed energization plan for feeding 15 kV system with 40 MW of turbines
Tested and commissioned all MW equipment and Relays for power generation
Staged and dressed eight 5 MW gas turbine generators
Installed cable tray and cables from each generator and service equipment
Provided turbine interconnection wiring
---
Hurricane Harvey 2017 – Houston, TX
Harvey recovery services provided to 38 of the 51 industrial plants with known wind & flood damage
Complete rebuild of every electrical component in 6 substations (including power panels, PLCs, VFDs & MCCs) of entire plastics unit 6' to 7' under water
Engineering assistance to tie new equipment with 1970's era equipment
Provided 28+ generators and established two camps
Avg. of 100+ techs for 4 months including night shift for several weeks
Assessed, cleaned, tested, & repaired electrical equipment that experienced over 7' of flooding
Completely rebuilt all electrical components in six substations (power panels, PLCs, VFDs, MCCs, etc.) for a plastics unit that was seven feet under water.
Provided engineering assistance to integrate new equipment with 1970s vintage equipment
Averaged 100+ technicians for four months including night shifts for several weeks
Here's a video of the Houston Mayor thanking Saber Power Services for our efforts to quickly restore Houston City Hall after Hurricane Harvey flooding.
---
Hurricane Katrina 2005 – New Orleans, LA
Major hotel in the French Quarter had electrical equipment in the basement flooded
Generators were delivered but were required to be placed in the street due to spatial constraint
Temporary power was able to be restored to the hotel from the generators in the streets
Dehydrators were brought in to dry the building
Complete electrical system for the hotel was rebuilt
Technicians even replaced commercial washers and dryers
Mobilized crews to assess and repair electrical equipment in a major French Quarter hotel that had experienced basement flooding
Delivered generators but were required to place them in the street due to spatial constraints
Restored temporary power from generators
Brought in dehydrators to dry the building
Rebuilt complete electrical system for the hotel even including replacement of washers and dryers
---
Hurricane Ivan 2004 – Grand Cayman Island
Chartered Hercules aircraft was filled with pallets of water, flashlights and generators
Saber technicians were first responders
5 feet of water was dropped on the island by the hurricane
Major hotel was the first customer recovered, in order to provide refuge for all recovery responders working throughout the island to rebuild
Power was able to be restored shortly after our arrival on the island
Technicians served as first responders following a storm that dropped 5' of water on the Grand Cayman Islands
Chartered Hercules aircraft filled with pallets of water, flashlights and generators
Brought major hotel back in service to provide refuge for all recovery responders working throughout the island
Restored power shortly after arriving on the island
Saber knows power. Contact us for more information.