Circuit breaker repair and maintenance
Expertise in electrical circuit breaker upgrades, circuit breaker replacements and retrofitting
Saber Power Field Service's dedicated Breaker Shop is a state-of-the-art facility with expert electrical technicians who have years of industry-leading experience with equipment from all major manufacturers and their service requirements. In addition to our electrical services, we have a large product inventory available for purchase.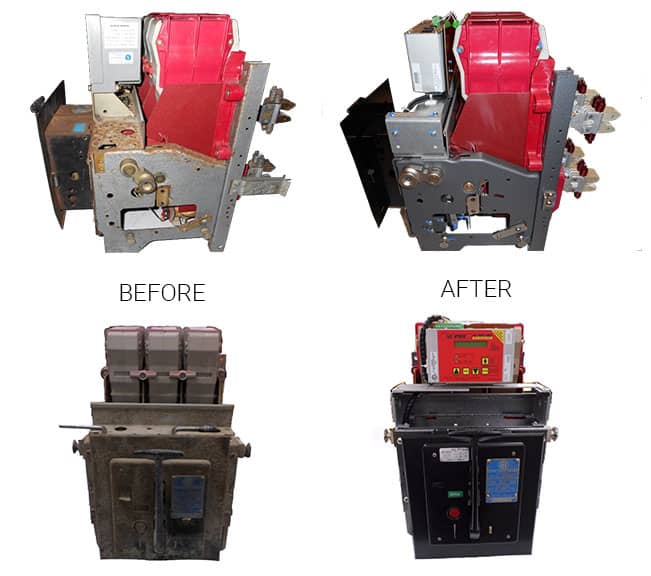 Services:
Reconditioning
Remanufacturing
Retrofitting
Circuit breaker maintenance program
Loaner breaker program (or contactor program)
Upgrades\calibrations (overload and relay)
Breaker replacement
Pre-commissioning
Accessory installation
Types of Equipment Serviced:
Molded case breakers
Insulated case breakers
Switchgear breakers 240 V to 38 kV
MCC buckets and vertical sections
MV contactors
Motor starters
Obsolete breakers and controls
Reclosers, oil and vacuum
Reconditioning
Includes a complete tear-down of the current path of the circuit breaker. We will clean, re-lubricate, reassemble, and re-adjust per OEM specifications. The operating mechanism will be removed from the frame, thoroughly cleaned, and inspected. All bearings and bushings will be cleaned, inspected, and lubricated/greased properly. All build-up and grease will be thoroughly cleaned.
Remanufacturing
Includes a complete tear-down of the entire circuit breaker including the operating mechanism, the current path, and the control wiring. All hardware will be nickel plated and all copper will be silver plated. The frame of the circuit breaker will be powder coated. Once the circuit breaker remanufacturing is completed, it would be comparable to a new factory circuit breaker. Remanufactures are our top-of-the-line service.
"
Another great find guys! Thanks for having a solution ready…Best breaker guys in the business.– Electrical Specialist, Chemical industry
Retrofit and Life-Extensions
The latest retrofit technologies enable facilities to incorporate the attributes of state-of-the-art equipment and technology at a fraction of the cost of replacement. From our dedicated breaker shop, Saber Power rebuilds and retrofits low and medium-voltage circuit breakers as well as high-pressure contact switches, starters, contactors and motor control centers, busway, medium-voltage disconnects, and other electrical distribution equipment. AC-Pro retrofits are used in low-voltage circuit breakers.
AC-Pro Retrofit Advantages
Provides all protection coverages with no rating plugs required
Trip units retain data from the most recent trip in non-volatile memory
The QUICK-TRIP system, which can be turned on or off without opening the cubicle door, helps reduce the arc flash hazard on downstream equipment when personnel must work on energized equipment
There are other advantages as well: vacuum and SF6 units are lighter, smaller, and simpler in design than air-magnetic, air-blast, or oil breakers. They have no asbestos-laden arc-chutes and no arc by-products. They also offer important mechanical and electrical life extension advantages, as well as extra safety and impressive energy efficiency and monitoring capabilities.
Saber Power Breaker Maintenance Program
We assist our customers with the annual task of ensuring their breakers are well-maintained and reliable. With our Breaker Maintenance Program, Saber tracks each serviced breaker, notifies the customer of upcoming manufacturer and/or NETA recommended maintenance periods, and sends a quote on the maintenance to be completed.
Breaker Maintenance Program Benefits
Limited contractors onsite
Reduced downtime
Improved reliability
Convenience of not having to do the tracking yourself.
Reduced administrative hassles
Maintenance Program Schedule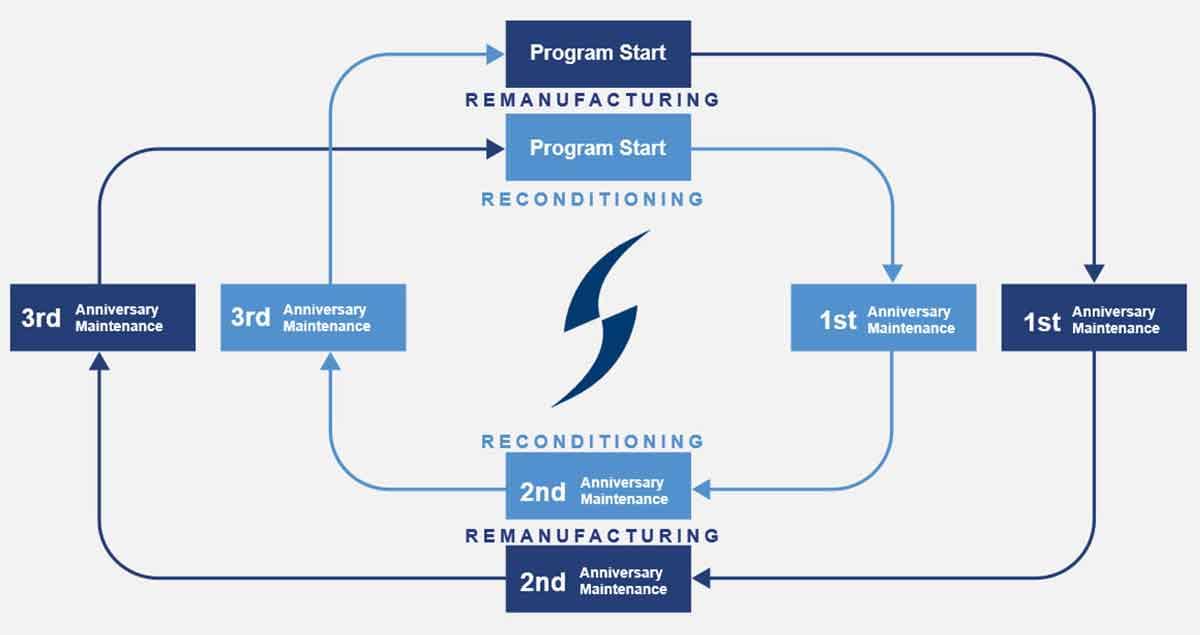 Warranty subject to Saber Power Services, LLC terms and conditions.
1 year warranty remains in effect if preventive maintenance or commitment to a new maintenance program occurs no later than 30 days from previous service anniversary.
Remanufacturers will be quoted every 9 or 12 years, pending the condition of the breaker.
Program timelines may vary due to failure, fault or damage of equipment outside of the maintenance program.
Loaner Breaker Program
Would you like to recondition or remanufacture your circuit breakers, but lack a spare circuit breaker?

Our Loaner Breaker Program is designed to:
Address the growing concerns with COVID-19 and social distancing
Reduce downtime
Maintain preventive maintenance schedule
Perform corrective repairs
Although "Loaner Breaker" is cited in the title, we are pleased to extend this service to all medium-voltage contactors as well. The program requires recondition, remanufacture or a combination of both services.
480v Circuit Breakers Molded case, Insulated Case, and Switchgear Breakers
We have the expertise to clean, repair, calibrate, or upgrade with new solid-state trip units, electronic communication technology, adjustable settings, enhanced protection, power quality monitoring, energy management capabilities and more.
2.4 kV to 38 kV Circuit Breaker Upgrades to Vacuum and SF6 Technology
These upgrades improve reliability and decrease maintenance intervals. Other benefits include improving the interrupting, momentary and continuous current rating.
Relay Upgrades
Saber Power offers upgrades from old electro-mechanical relaying systems to new solid-state packages from Schweitzer, GE, Basler, and more. These upgrades provide better system protection flexibility, more independent function availability, small packaging for panel or rack mount, LCD displays with real-time metering and system monitoring, communication ports for metering, alarms and fault data monitoring from remote locations, and reduced maintenance and calibration costs.

We can completely rebuild high-pressure switches, starters/contactors, motor control centers, including re-plating, polishing, hardware replacement, painting, replacing into existing cell, testing and calibration.
Direct Replacement Breakers
Circuit breaker technologies allow large electrical users to exchange older, often obsolete equipment for upgraded replacements, without disrupting existing switchgear. Most replacement breakers are designed to fit into the existing switchgear cell with little to no modification and will interface with the existing switchgear structure and maintain safety interlocks inherent in the original design.
Benefits of Replacement Circuit Breakers Typically Include:
Less cost and downtime compared to new equipment installation
Enhanced electrical system reliability
Reduced maintenance and operating costs
No need to search for obsolete or hard-to-find spare parts
Various digital trip devices for short circuit and overload protection
Increased safety by adding ground fault protection
Extended range of short circuit and continuous current capabilities
All applicable ANSI standards met
Through-door racking and trip unit display
Increased safety by replacing with arc flash limiting breakers
Saber Power Field Services earns full-service member status from PEARL. Learn more.
Saber knows power. Contact us for more information.