Saber Power Field Services is a NETA Accredited Company
NETA certified field service technicians provide testing and commissioning, maintenance and repair, emergency response and more
"
The final product was better than expected. I can't say enough good things about your very talented team. Flawless design and implementation! There are many opportunities to have a setback with a project of this complexity, but you guys were spot on technically and way ahead of schedule.– Electrical Engineer, Chemical Industry
Safety as a Standard
As a NETA Accredited Company, Saber Power Field Services recognizes our safety program is paramount to making sure all other operational goals are met. Safety compliance means upholding the highest standards in the industry: standards put forth by OSHA, ASTM, NFPA, IEEE, The National Safety Council, CSA, NEMA, and others. With a dedication to safety, as recognized by NETA, Saber Power implements procedures in accordance with these industry standards and continually reviews and updates the company's safety program.
Independent electrical power system testing service provider
Saber Power Field Services is an independent electrical power system testing service provider. Our experienced field service team provides unbiased electrical testing results while ensuring accurate testing and reporting.
Qualified Technicians
Our team of NETA certified technicians and support personnel are experienced in all facets of electrical and power system testing, maintenance, repair and commissioning in accordance with ANSI/NETA standards.
Our technicians have earned NETA Certification in electrical power systems testing and have the knowledge and field experience necessary to perform testing, make repairs, install and commission new or updated equipment and maintain existing equipment according to manufacturer guidelines and industry standards. Our field services team's work experience, education, certifications and training keep them current with new technologies and provide them the knowledge to perform these services across a wide variety of power systems and equipment manufacturers.
We consider safety and quality the highest priorities for both our customers and our technicians.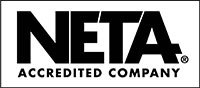 Learn more about NETA
Saber knows power. Contact us for more information.